Do you ever wonder what separates stars from superstars? What separates Michael Jordon from other great basketball players? What separates Tiger Woods from other great golfers?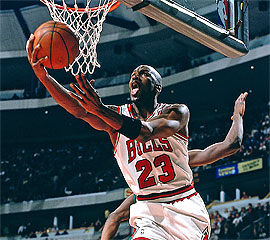 It is easy to assume they are superstars because of their superior physical ability. I do not think so. During Michael Jordon's career there was another basketball player many people would argue had superior physical skills to Michael's. The player, Dominique Wilkins, was certainly a star during his career, but he was no Michael Jordon. And there are undoubtedly golfers who can out hit Tiger Woods on the golf course. Physical prowess alone cannot not explain it.
Maybe you think superstars have a stronger desire to win than everyone else. Superstars surly love to win, but winning is not what drives them. Stars are driven by the desire to win, not superstars. How can you tell the difference? It is easy. When stars win, they celebrate. For stars, winning is like climbing Mt Everest. It is a journey with a very definite destination: winning. Like the summit on Mt Everest, once they reach their destination they have achieved their goal and so they celebrate. Not so with superstars.
Superstars are not driven by the love of winning. That passion fades too quickly. No, superstars are driven by something much stronger. Superstars are driven by their hatred of losing. For them, competition is not like summiting a mountain, it is like running away from a monster. A monster called losing. And this monster never tires, never gives in and never stops chasing them. It is why their celebrations after winning are so short lived. They have to keep running.
The hatred of losing will drive a person further than the love of winning ever will. It is the curse (or the gift?) that the superstar possesses. It is the only thing that will make someone re-double their effort after they win. It is the necessary ingredient for super stardom.
Unfortunately you cannot pretend to hate losing to make yourself a superstar. It is either within you or it is not. The desire to keep running after you have won the race is not a part of many people. But do not despair. The superstar may win more often than everyone else, but it is likely the enjoy it less. Contentment is not part of the superstar's existence.
So, the next time you wonder what it would be like to be a superstar, just know that you can actually beat them at something: enjoying winning. You should be content with that.
Thanks for installing the Bottom of every post plugin by Corey Salzano. Contact me if you need custom WordPress plugins or website design.